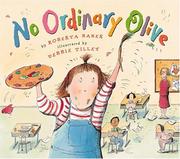 Illustrated by Debbie Tilley
Not your typical childhood would be predicted for a girl with a name like Olive Elizabeth Julia Jerome.
From the very start, Olive stood out from all the rest. She liked being different.
Her parents recite with encouragement, "She's no ordinary Olive."
With a great imagination, Olive is not afraid to try new things. She does her best to make breakfast for her parents even though it happens to be raisin pancakes with bubble gum and oatmeal with pickles!
Whether Olive is spending time outside, attending school for the first time, daydreaming instead of doing her schoolwork or quietly sitting in the principal's office, her imagination takes over and a new adventure begins.
"No Ordinary Olive" is a fun story which has a light-hearted theme on learning to be yourself.
The illustrator uses splendid details to reinforce Olive's personality and sense of personal expression.
I would recommend this delightful story, it has a lot of character.